Amy Grzyb Private Party
November 23, 2019 @ 1:30 pm

-

4:30 pm

$31.00 – $51.00
Amy Grzyb welcomes Glitter Your Pallet and friends for an afternoon of painting wood Christmas projects. This will take place on Saturday November 23rd @ 1:30pm. The painting portion of the party will last 3 hours and 15 minutes. Come out and join the fun! 
HOSTESS: Please make sure your guests arrive earlier than the painting workshop begins. In order to keep this to a 3 hour and 15 minute class, everyone should have their appetizers, drinks, projects and designs ready to go and be seated by 6:15pm. The instructor uses her time wisely and expects that of the participants as well. Parties that go over the 3 hour and 15 minute time limit are charged an additional $50.00 on the hostess credit card. 
DECOR PALLET BOARD DESCRIPTION:
$45.00 per person includes, supplies, step by step guidance and subtle accents of glitter! The BOARD SIZE is 24″x 14″ and come pre-painted / stained / distressed. The night of the event, the balance is due in cash. Sorry instructors cannot accept checks or credit cards. Design will all be Christmas and Winter themed. Should you like to request something else please submit your request via email only one week prior to the event. [email protected] 

BARN HOUSE BOARD DESCRIPTION: 
$50.00 per project includes barn house board with dimension sized at 24″ tall and 20″ wide.  The top of the barn has a rough roof finish and is painted red. The board for your quotes is pre-painted white with a slight distressed finish. Numerous design options include country Christmas, winter sleigh rides, spiritual/religious "true love was born in a stable/manger" and others. Subtle accents of glitter included.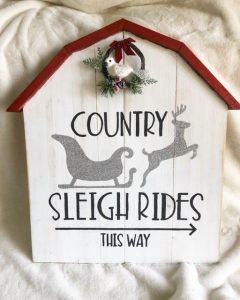 SMALL BREAD BOARD DESCRIPTION: 
$30.00 includes one pre-painted hand carved breadboard. Dimensions are 17″ tall and 9″ wide. Color choices are red, evergreen or brown and can be chosen the night of the event. Numerous design choices including Mrs. Claus Cookie Company, Gingerbread Bakery, Farmhouse Christmas, Old Fashion Hot Cocoa and more! Subtle accents of glitter included. PLEASE NOTE: these are not food grade, strictly for decoration purposes only. 
If you need inspiration to get started, visit the Glitter Your Pallet portfolio page on the website. WE LOVE SOCIAL MEDIA! Check us out on Facebook, Instagram & Pinterest social media sites. These are all great places for reference and to gather ideas for your board creation.
Be sure to take lots of pictures on the fun and tag with #glitteryourpallet @glitteryourpallet
PLEASE NOTE: Glitter Your Pallet offers the most up to date and trendy design quotes in the Chicagoland market. THEREFORE, OUR STENCIL DESIGN INVENTORY IS CONSTANTLY ROTATING. If you are attending an upcoming event and have a special request from the PORTFOLIO PAGE please submit via email only. All requests must be submitted at least one week prior to your event date. We make our best attempt to honor all requests. [email protected]
***We ask that participants arrive on time, those that do not, should expect to take their project home to finish.
INSTRUCTOR: Peb